My morning cup is a ritual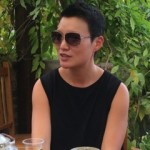 by Sunny
One cup of coffee daily is all I need. One good cup. Actually, one cup of the best coffee, is what I want each day.
We have tasted and brought in coffee beans from the US, from Europe, from different roasters here in China – we like to try new ones – there's an endless variety to try. So, when my friend Eric said he was starting Fu Coffee – offering good coffee with an emphasis on helping the coffee planters and workers – I was intrigued. Because really, no matter how noble the cause, if the coffee isn't good, I wasn't going to buy any. 🙂
Fu Coffee is really, really good. Especially the Italian Roast. I have it in my coffee grinder and it smells luscious. It tastes full and delicious.
My morning cup is a ritual – to start the day with a thankful heart. What a great way to start my day!